Featured Application: Extractable Semivolatile Organic Compounds on Rxi-5Sil MS
Analyze More Semivolatile Samples per Shift Using Split Injection and an Rxi-5Sil MS Column
Faster oven cycle increases sample throughput.
Split injection reduces maintenance frequency.
Reliably meets or exceeds method requirements for sensitivity and linearity.
Semivolatiles are typically analyzed using splitless injection, but this approach results in slow analysis times, frequent maintenance due to matrix accumulation, and injection-to-injection variability. Combined, these factors reduce the number of samples that can be analyzed before quality control criteria are no longer met. Using split injection is a simple way to increase sample throughput for semivolatiles analysis because it provides faster oven cycle times due to the use of higher initial oven temperatures. In addition, because less matrix is injected onto the column, more samples can be analyzed before downtime is required for maintenance.
As an alternative to splitless injection, using split injection with a robust, low-bleed Rxi-5Sil MS column produces highly repeatable results for trace-level analysis of semivolatiles, such as those listed in EPA Method 8270D. The selectivity of this column ensures reliable separation of problematic compounds, like benzo[b]fluoranthene and benzo[k]fluoranthene. An Rxi-5Sil MS column was selected for this work because it provides consistent chromatographic performance for semivolatiles analysis, making it easier to meet Method 8270 requirements while benefiting from the faster sample throughput obtained with split injection.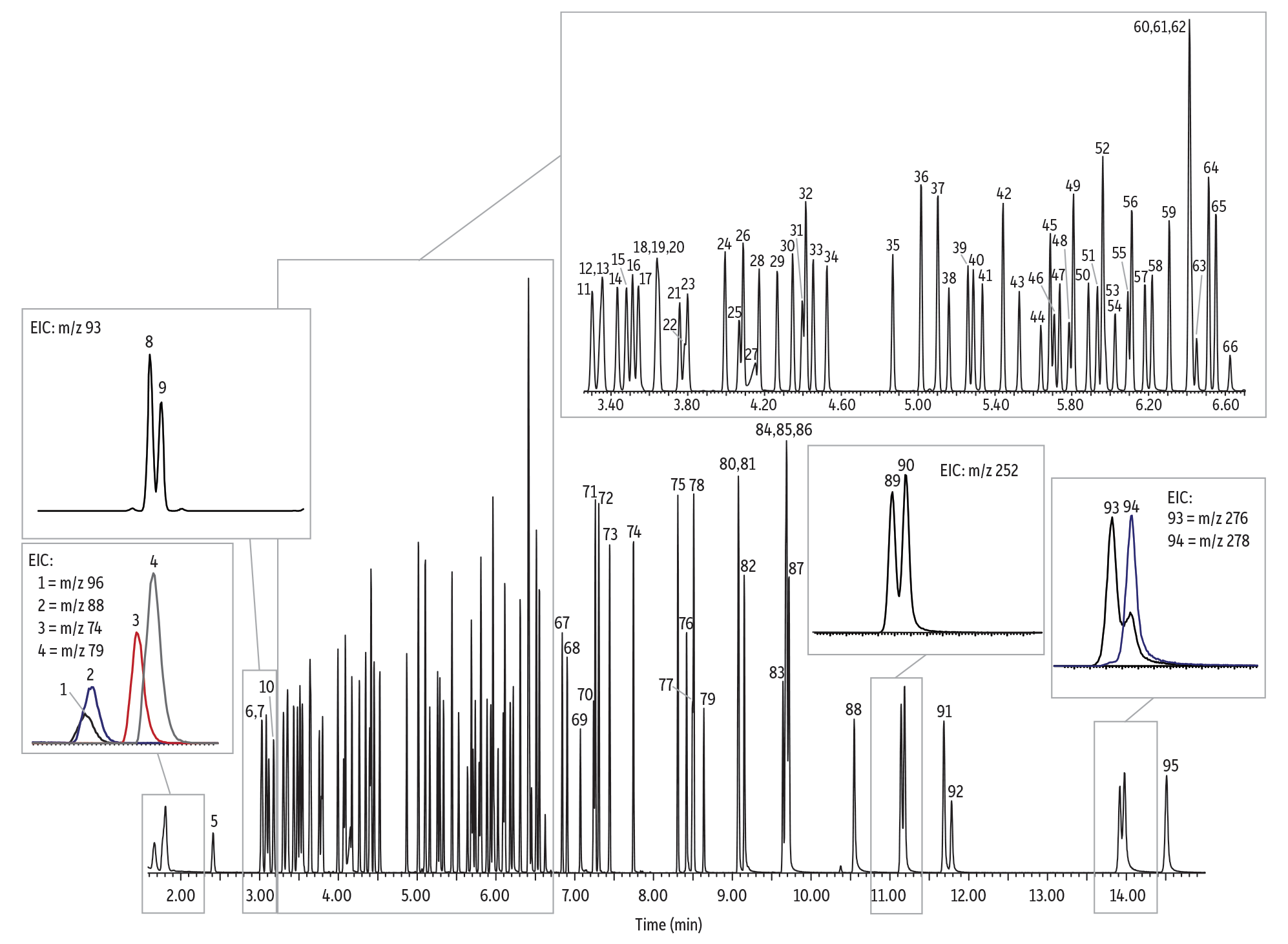 | | Peaks |
| --- | --- |
| 1. | 1,4-Dioxane-d8 (IS) |
| 2. | 1,4-Dioxane |
| 3. | N-Nitrosodimethylamine |
| 4. | Pyridine |
| 5. | 2-Fluorophenol (SS) |
| 6. | Phenol-d6 (SS) |
| 7. | Phenol |
| 8. | Aniline |
| 9. | Bis(2-chloroethyl)ether |
| 10. | 2-Chlorophenol |
| 11. | 1,3-Dichlorobenzene |
| 12. | 1,4-Dichlorobenzene-D4 (IS) |
| 13. | 1,4-Dichlorobenzene |
| 14. | Benzyl alcohol |
| 15. | 1,2-Dichlorobenzene |
| 16. | 2-Methylphenol |
| 17. | Bis(2-chloroisopropyl)ether |
| 18. | 4-Methylphenol |
| 19. | 3-Methylphenol |
| 20. | N-Nitroso-di-n-propylamine |
| 21. | Hexachloroethane |
| 22. | Nitrobenzene-D5 (SS) |
| 23. | Nitrobenzene |
| 24. | Isophorone |
| 25. | 2-Nitrophenol |
| 26. | 2,4-Dimethylphenol |
| 27. | Benzoic acid |
| 28. | Bis(2-chloroethoxy)methane |
| 29. | 2,4-Dichlorophenol |
| 30. | 1,2,4-Trichlorobenzene |
| 31. | Naphthalene-D8 (IS) |
| | Peaks |
| --- | --- |
| 32. | Naphthalene |
| 33. | 4-Chloroaniline |
| 34. | Hexachlorobutadiene |
| 35. | 4-Chloro-3-methylphenol |
| 36. | 2-Methylnaphthalene |
| 37. | 1-Methylnaphthalene |
| 38. | Hexachlorocyclopentadiene |
| 39. | 2,4,6-Trichlorophenol |
| 40. | 2,4,5-Trichlorophenol |
| 41. | 2-Fluorobiphenyl (SS) |
| 42. | 2-Chloronaphthalene |
| 43. | 2-Nitroaniline |
| 44. | 1,4-Dinitrobenzene |
| 45. | Dimethyl phthalate |
| 46. | 1,3-Dinitrobenzene |
| 47. | 2,6-Dinitrotoluene |
| 48. | 1,2-Dinitrobenzene |
| 49. | Acenaphthylene |
| 50. | 3-Nitroaniline |
| 51. | Acenaphthene-d10 (IS) |
| 52. | Acenaphthene |
| 53. | 2,4-Dinitrophenol |
| 54. | 4-Nitrophenol |
| 55. | 2,4-Dinitrotoluene |
| 56. | Dibenzofuran |
| 57. | 2,3,5,6-Tetrachlorophenol |
| 58. | 2,3,4,6-Tetrachlorophenol |
| 59. | Diethyl phthalate |
| 60. | 4-Chlorophenyl phenyl ether |
| 61. | Fluorene |
| 62. | 4-Nitroaniline |
Column
Rxi-5Sil MS, 30 m, 0.25 mm ID, 0.25 µm (cat.# 13623)
Sample
8270 MegaMix (cat.# 31850)
8270 Benzidines mix (cat.# 31852)
Benzoic acid (cat.# 31879)
1,4-Dioxane (cat.# 31853)
Revised B/N surrogate mix (cat.# 31888)
Acid surrogate mix (4/89 SOW) (cat.# 31063)
Revised SV internal standard mix (cat.# 31886)
Diluent:
Methylene chloride
Conc.:
40 µg/mL (IS/SS 20 µg/mL)
Injection
Inj. Vol.:
1 µL split (split ratio 10:1)
Liner:
Premium 4 mm Precision liner w/wool (cat.# 23305.5)
Inj. Temp.:
270 °C
Split Vent Flow Rate:
12 mL/min
Oven
Oven Temp.:
70 °C (hold 1 min) to 285 °C at 28 °C/min to 305 °C at 3 °C/min to 320 °C at 30 °C/min (hold 1 min)
Carrier Gas
He, constant flow
Flow Rate:
1.2 mL/min
| | |
| --- | --- |
| Detector | MS |
| Mode: | Scan |
| Transfer Line Temp.: | 280 °C |
| Analyzer Type: | Quadrupole |
| Source Temp.: | 270 °C |
| Quad Temp.: | 150 °C |
| Electron Energy: | 70 eV |
| Solvent Delay Time: | 1.3 min |
| Tune Type: | DFTPP |
| Ionization Mode: | EI |
| Scan Range: | 35-550 amu |
| Scan Rate: | 5.36 scans/sec |
| Instrument | Agilent 7890A GC & 5975C MSD |
EVSS2679A-UNV