Featured Application: Polycyclic Aromatic Hydrocarbons (PAHs) on a Pinnacle II PAH HPLC Column
Fast Analysis of Polycyclic Aromatic Hydrocarbons (PAHs) by HPLC-UV
Quick ~15-minute analysis of PAHs by HPLC provides fast results without the expense of UHPLC equipment.
Baseline resolution improves accuracy for commonly analyzed PAHs of global concern.
Restek has method-specific PAH certified reference materials, as well as the only standard formulated to contain all major PAH interferences for priority PAHs.
Polycyclic aromatic hydrocarbons (PAHs) are a group of nonpolar organic molecules containing two or more benzene rings. PAHs are released from the incomplete combustion of organic fuels, and they generally occur as complex mixtures in our food and environment. Although not all polycyclic aromatic hydrocarbons are known to have detrimental health effects, several PAHs have been demonstrated to be toxic, carcinogenic, or mutagenic. To protect human health, many organizations have mandated exposure limits for PAHs. Air, water, soil, and food samples are commonly tested globally; however, the list of target compounds varies widely around the world. Many HPLC methods recommend a C18 column, but analysis times can be long (~30 minutes) and target analytes are not always completely resolved.
Restek's Pinnacle II PAH column was developed as an alternative to a C18 column specifically for the analysis of PAHs by HPLC. The stationary phase incorporates a proprietary bonding and unique selectivity that baseline resolves key PAH isomers, such as those in the European and U.S. PAH lists shown in the chromatograms below. These separations were accomplished in short analysis times (~15 minutes) on a conventional HPLC system (<400 bar pressure). Analyzing PAHs by HPLC with a Pinnacle II PAH column allows labs to report PAH results quickly and accurately without investing in UHPLC equipment.

Column
Pinnacle II PAH (cat.# 921946E)
Dimensions:
150 mm x 3.0 mm ID
Particle Size:
4 µm
Pore Size:
110 Å
Temp.:
30 °C
Sample
EU 15+1 PAH standard (cat.# 32470)
Diluent:
Acetonitrile
Conc.:
10 µg/mL (ppm)
Inj. Vol.:
5 µL
Mobile Phase
A:
Water
B:
Acetonitrile:tetrahydrofuran (95:5)

| Time (min) | Flow (mL/min) | %A | %B |
| --- | --- | --- | --- |
| 0.00 | 1.5 | 30 | 70 |
| 3.00 | 1.5 | 25 | 75 |
| 10.00 | 1.5 | 0 | 100 |
| 14.50 | 1.5 | 0 | 100 |
| 14.51 | 1.5 | 30 | 70 |
| 16.5 | 1.5 | 30 | 70 |

Max Pressure:
275 bar
| | |
| --- | --- |
| Detector | UV/Vis @ 292, 4 nm |
| Cell Temp: | 40 °C |
| Flow Cell Size: | 10 µL |
| Instrument | Shimadzu Prominence |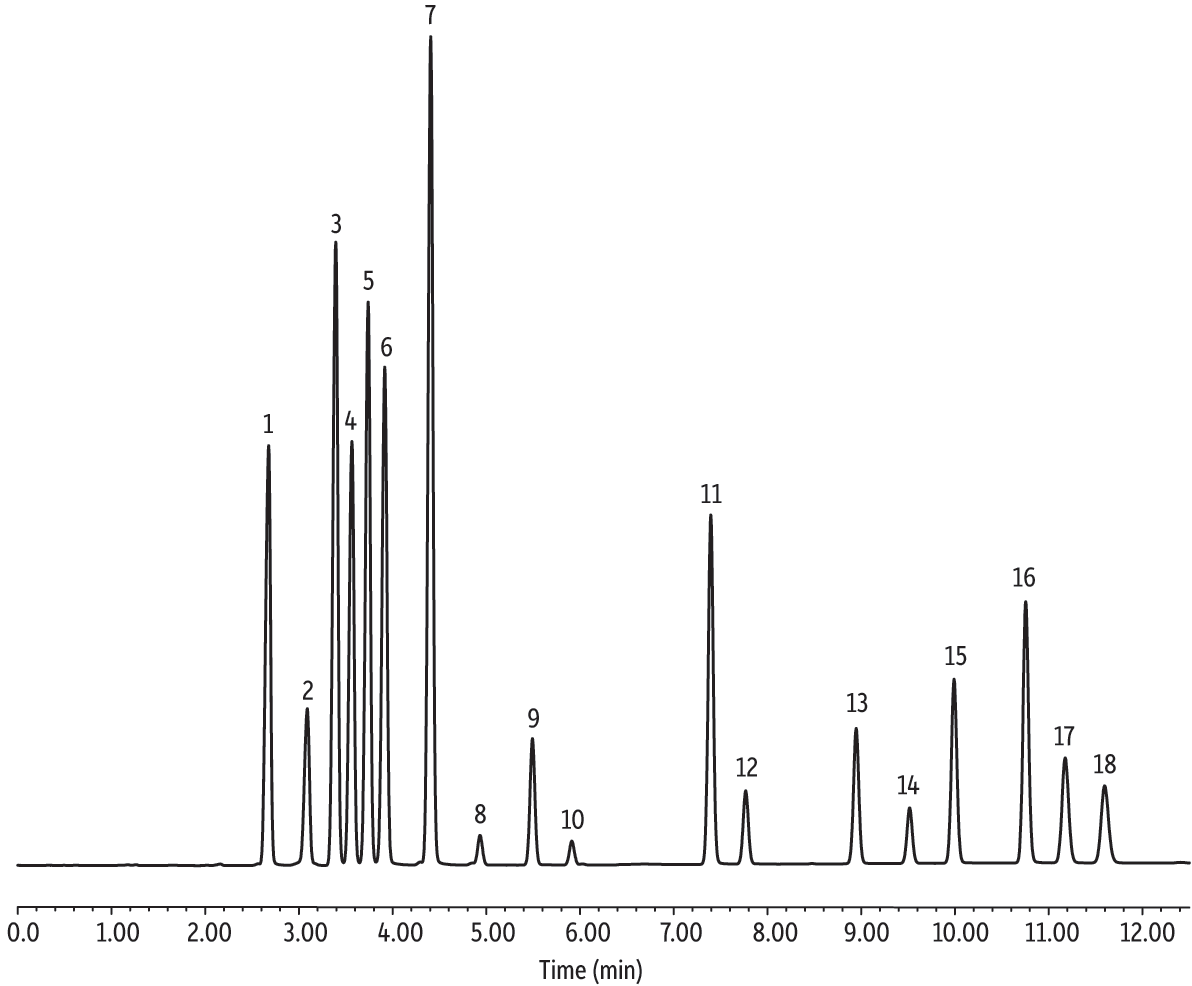 Column
Pinnacle II PAH (cat.# 921946E)
Dimensions:
150 mm x 3.0 mm ID
Particle Size:
4 µm
Pore Size:
110 Å
Temp.:
30 °C
Sample
EPA Method 8310 quality control check (cat.# 31843)
Inj. Vol.:
10 µL
Mobile Phase
A:
Water
B:
Acetonitrile

| Time (min) | Flow (mL/min) | %A | %B |
| --- | --- | --- | --- |
| 0.00 | 1.2 | 50 | 50 |
| 10.0 | 1.2 | 0 | 100 |
| 12.5 | 1.2 | 0 | 100 |
| 12.51 | 1.2 | 50 | 50 |
| 15.0 | 1.2 | 50 | 50 |
EVSS2396A-UNV