Method 8082A: Polychlorinated Biphenyls (PCBs) Analysis by GC
EPA Method 8082A details how Aroclor mixtures and polychlorinated biphenyl (PCB) congeners are to be analyzed in a parallel dual-column confirmation setup. When choosing columns, it is important to select stationary phases that have low bleed and high thermal stability. This allows the columns to be held at high temperature at the end of each analysis to prevent carryover from one injection to the next. Because many instruments used for PCB analysis also may be used for pesticide and herbicide analyses, the column pair of choice is the Rtx-CLPesticides and Rtx-CLPesticides2 columns. This column set provides low bleed, high thermal stability, and is designed for primary column analysis and secondary column confirmation.
For Aroclor mixture analysis under EPA 8082A, individual Aroclor mixes are required to be analyzed as standards, then the sample extract chromatograms are compared to the standards to qualitatively identify the Aroclor mixtures. Once identification has been made, quantification can be performed by selecting five of the largest peaks, treating them as individual compounds, and then reporting the average concentration.
When analyzing for PCB congeners using Method 8082A, each peak is to be treated as an individual component and a standard curve is made for each of the congeners of interest. Note that while many laboratories are interested in the analysis of PCBs by congener, most do not need, or desire, to analyze all 209.
Vendor
Column Pair
Analysis Time (min)
Restek Advantage
Restek
Rtx-CLPesticides /
Rtx-CLPesticides2
7 / 7
Competitor A
column 1 / column 2
6 / 7
Competitor B
column 1 / column 2
24 / 21
Comparison based on published competitor data. All columns tested were 0.32 mm ID. Coelutions are excluded from comparison as they are not relevant for Aroclor analysis.
Aroclor PCB analysis on the Rtx-CLPesticides column.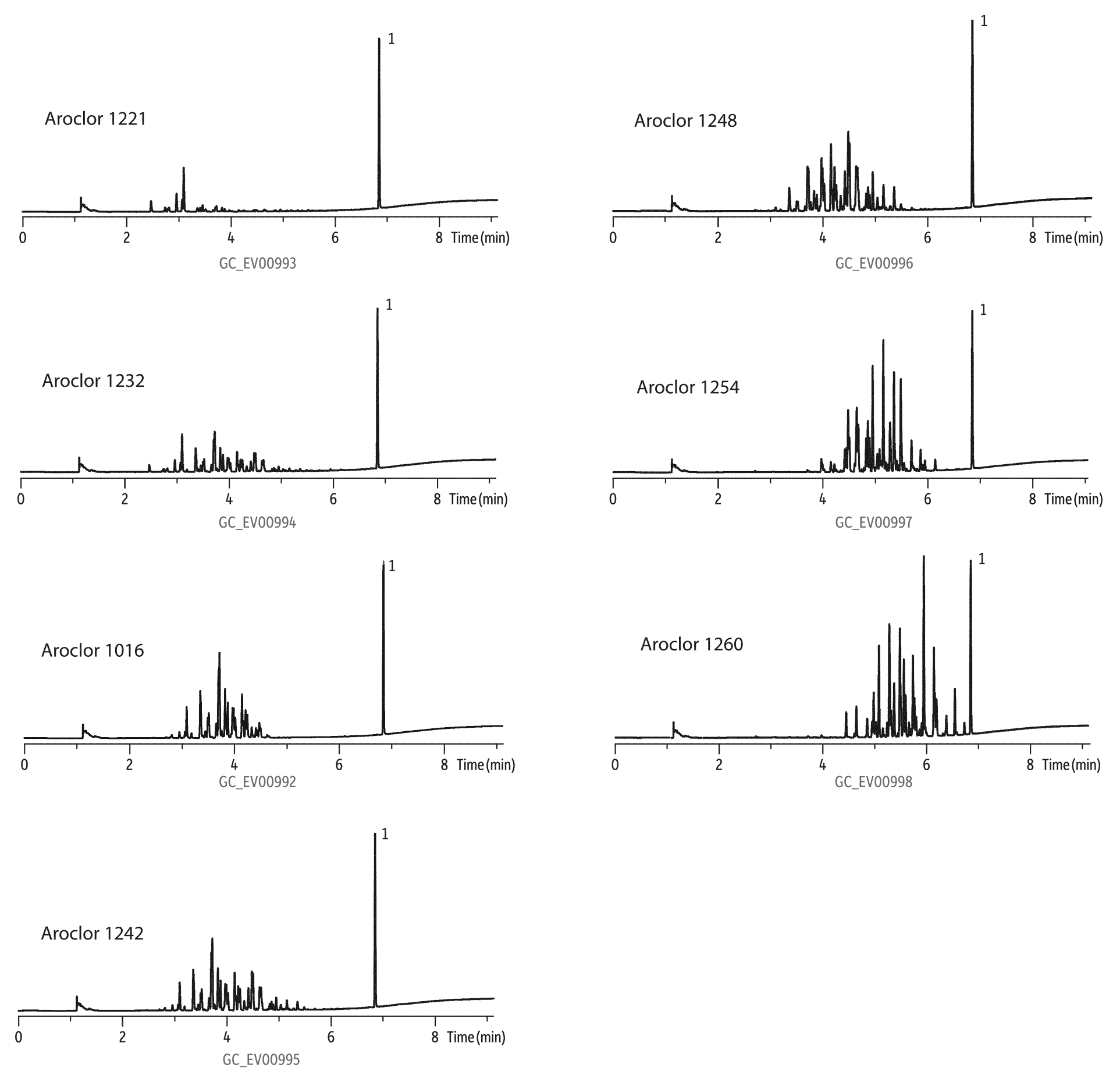 Column
Rtx-CLPesticides, 30 m, 0.32 mm ID, 0.32 µm (cat.# 11141)
Standard/Sample
PCB kit #1 diluted to 1,000 ppb in hexane (cat.# 32089)
Decachlorobiphenyl (BZ #209) diluted to 100 ppb in acetone (cat.# 32029)
Injection
Inj. Vol.:
1.0 µL pulsed splitless (hold 0.3 min)
Liner:
Cyclo double taper (4 mm) (cat.# 20895)
Inj. Temp.:
250 °C
Pulse Pressure:
30 psi (206.8kPa)
Oven
Oven Temp.:
120 °C to 200 °C at 45 °C/min to 230 °C at 15 °C/min to 330 °C at 30 °C/min (hold 2 min)
Carrier Gas
He, constant flow
Linear Velocity:
60 cm/sec
| | |
| --- | --- |
| Detector | Micro-ECD @ 330 °C |
| Notes | This chromatogram was obtained using an Agilent micro-ECD. To obtain comparable results, you will need to employ a micro-ECD in addition to confirmational dual columns connected to a 5-meter guard column using a "Y" Press-Tight connector. |
Aroclor PCB analysis on the Rtx-CLPesticides2 column.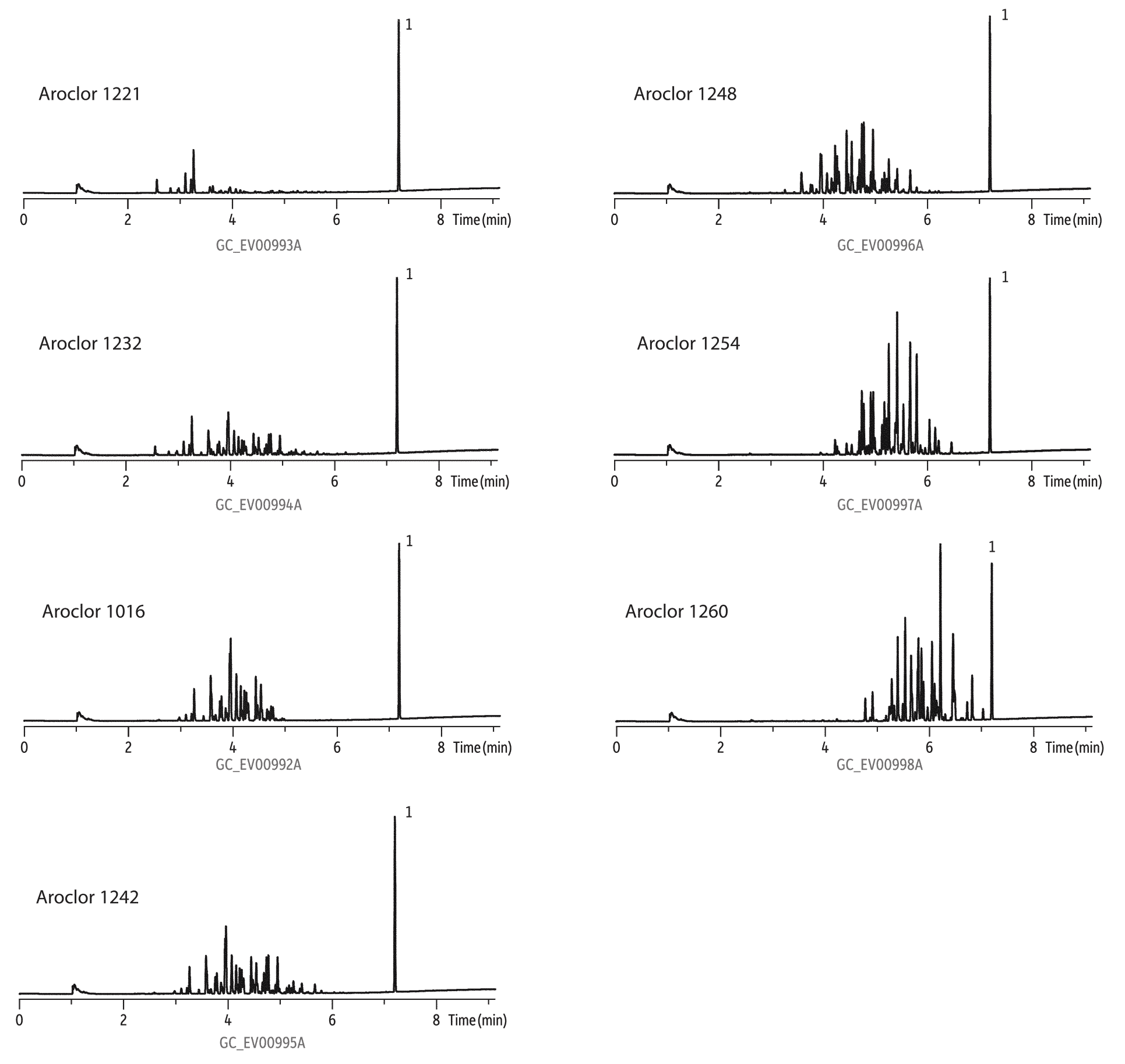 Column
Rtx-CLPesticides2, 30 m, 0.32 mm ID, 0.25 µm (cat.# 11324)
Standard/Sample
PCB kit #1 diluted to 1,000 ppb in hexane (cat.# 32089)
Decachlorobiphenyl (BZ #209) diluted to 100 ppb in acetone (cat.# 32029)
Injection
Inj. Vol.:
1.0 µL pulsed splitless (hold 0.3 min)
Liner:
Cyclo double taper (4 mm) (cat.# 20895)
Inj. Temp.:
250 °C
Pulse Pressure:
30 psi (206.8kPa)
Oven
Oven Temp.:
120 °C to 200 °C at 45 °C/min to 230 °C at 15 °C/min to 330 °C at 30 °C/min (hold 2 min)
Carrier Gas
He, constant flow
Linear Velocity:
60 cm/sec
| | |
| --- | --- |
| Detector | Micro-ECD @ 330 °C |
| Notes | This chromatogram was obtained using an Agilent micro-ECD. To obtain comparable results, you will need to employ a micro-ECD in addition to confirmational dual columns connected to a 5-meter guard column using a "Y" Press-Tight connector. |
EVTS1013E-UNV
Related Products
Related Articles